Preschool Ballet class plan and playlist – everything you need to deliver a fun Spring themed preschool ballet class.

Spring is such a delightful time of the year and a lovely one to celebrate with your budding ballerinas (excuse the pun). The following Preschool Ballet class plan works perfectly alongside the Resources for Dance Teachers Preschool Ballet Blueprint.  Remember, when incorporating anything 'new' into your class be prepared to be flexible. Depending on your class you might want to incorporate just a few songs into your regular class plan or your class may be ready to  do all the different Spring themed songs and activities outlined.  The mini Preschool Ballet Spring themed class plan comes with an optional prop list if you would like to incorporate props and consists of 5 songs and activities for a Spring themed preschool ballet class.  The playlist for the Preschool ballet class plan along with some extra spring themed songs can be found here.  You can also find some cute little seasonal coloring pages to further enhance your class here.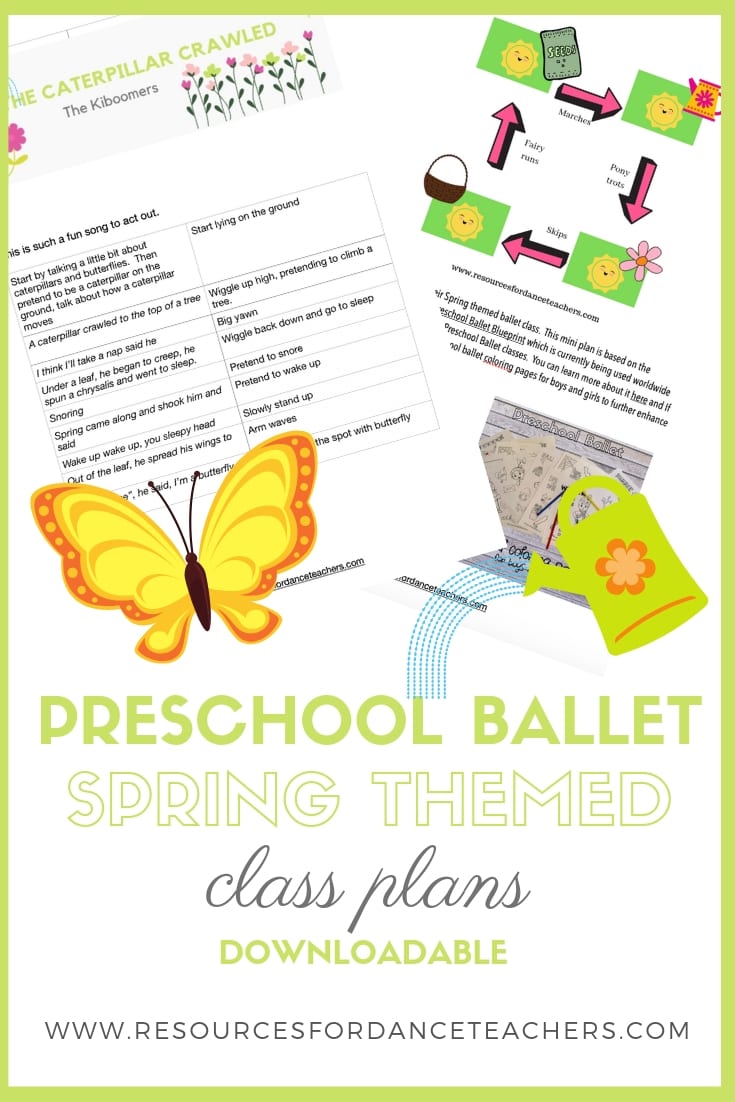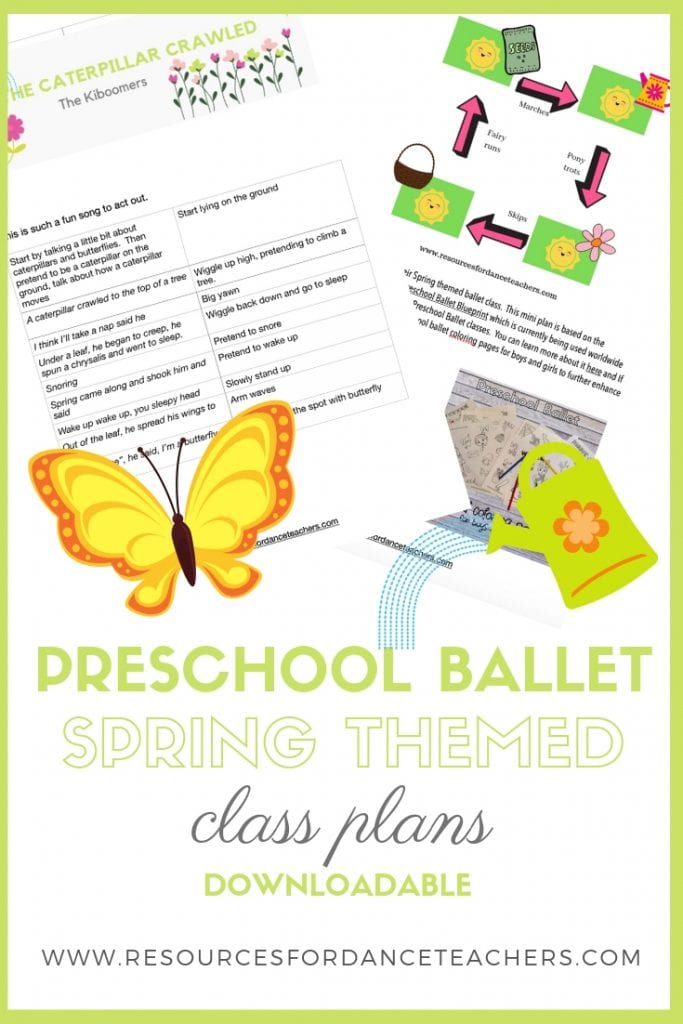 The mini Spring themed class plan includes the following songs and activities
Sing a Song of Flowers – The Kiboomers – a lovely plié and tendu exercise combining imaginative play
The Caterpillar crawled – The Kiboomers – an educational and fun activity incorporating levels and movement while learning about the life cycle of the butterfly
Rainbows – Kimbo Chidren's music – a lovely imaginative exercise incorporating transfer of weight
Picking all the flowers – The Wiggles – this is a fun locomotion activity, incorporating levels, directions, motor skills, and lots of laughs.
The Garden Ballet – The Wiggles – a circuit activity including steps of locomotion, directions, following instructions and imaginative play
To download the Spring themed Preschool Ballet Class Plan, just enter your email below.
If you are interested in learning more about the Preschool Ballet Blueprint, a Preschool Ballet Curriculum which is currently being used worldwide to deliver successful and popular Preschool Ballet classes, click here. The curriculum is designed to prepare young dancers for more formal ballet training and includes many notes and ideas on class control and behaviour management.
Additional Mini class plans can be found here and a wonderful range of Preschool Ballet coloring sheets for boys and girls can be found here.