Recital activities
Ballet activity pack for recitals, camps and parties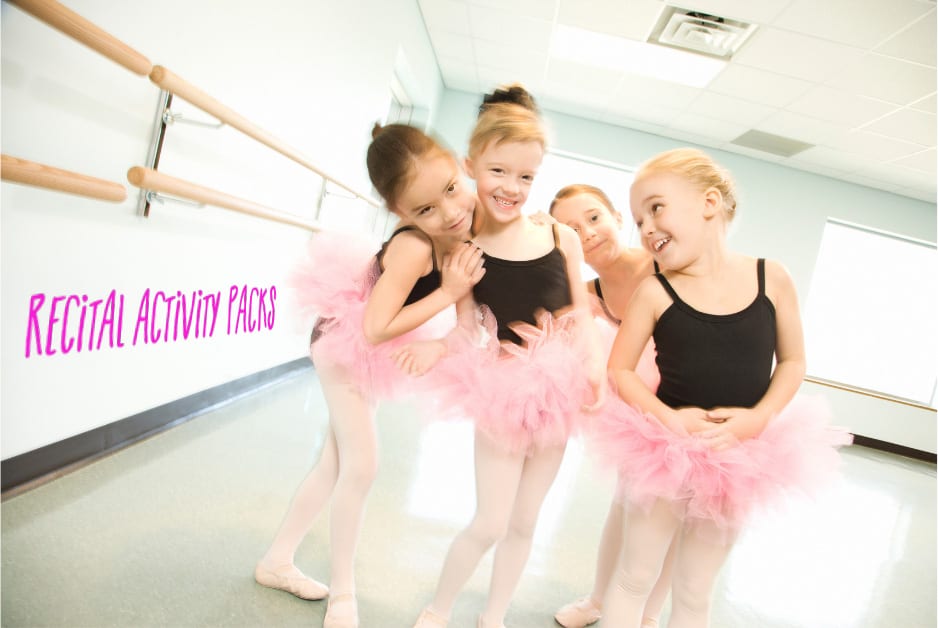 Kids waiting backstage in their dressing rooms at recital are excited, nervous and full of energy when really, we need them to be calm, quiet and entertained.  The  ballet activity pack for recitals, camps and parties is your answer.  The pack contains 12 pages of ballet activities including word searches, design your own make up and colouring activities.  You can print out the whole booklet or just individual pages as required, either way this is the answer for keeping kids entertained while waiting backstage at recital or competitions.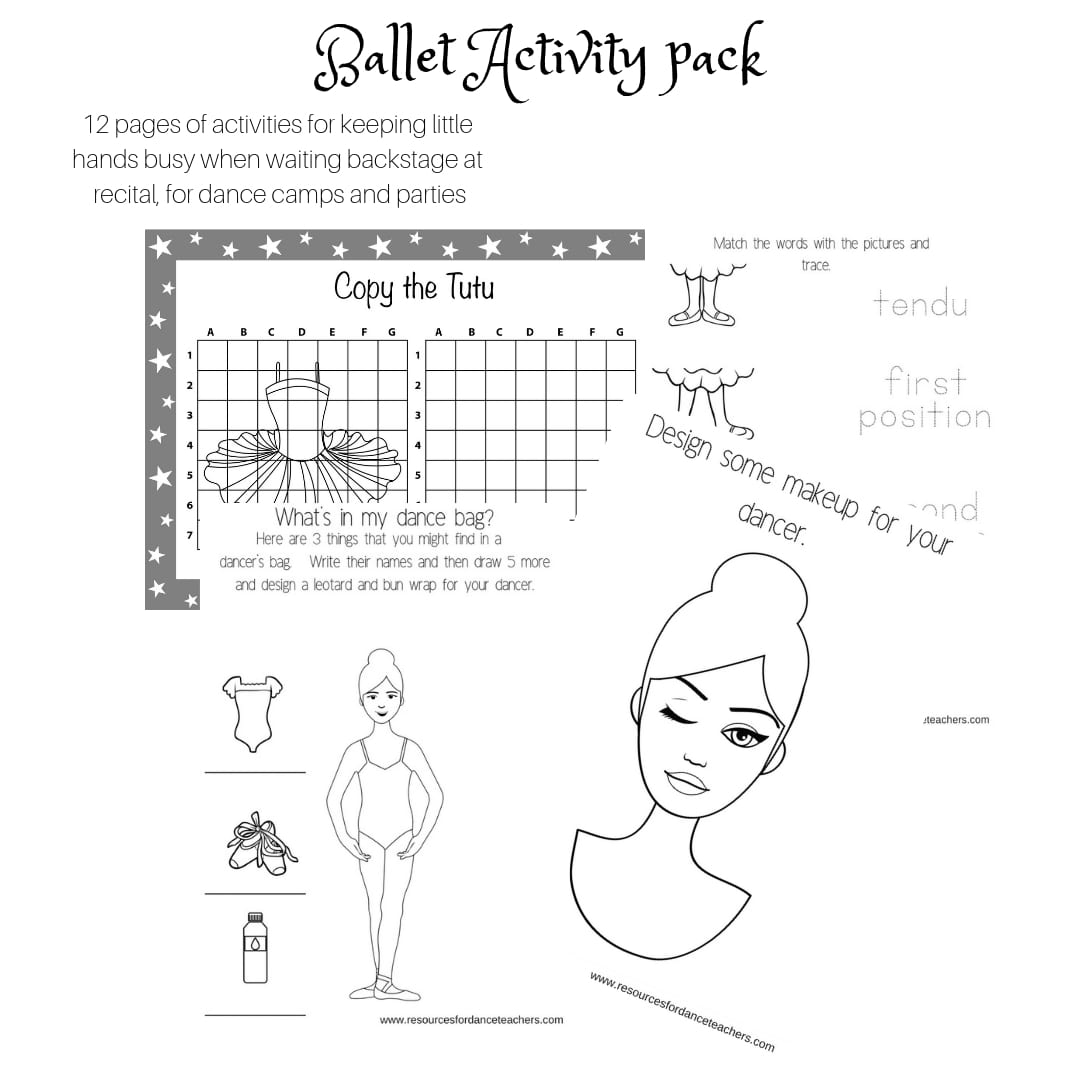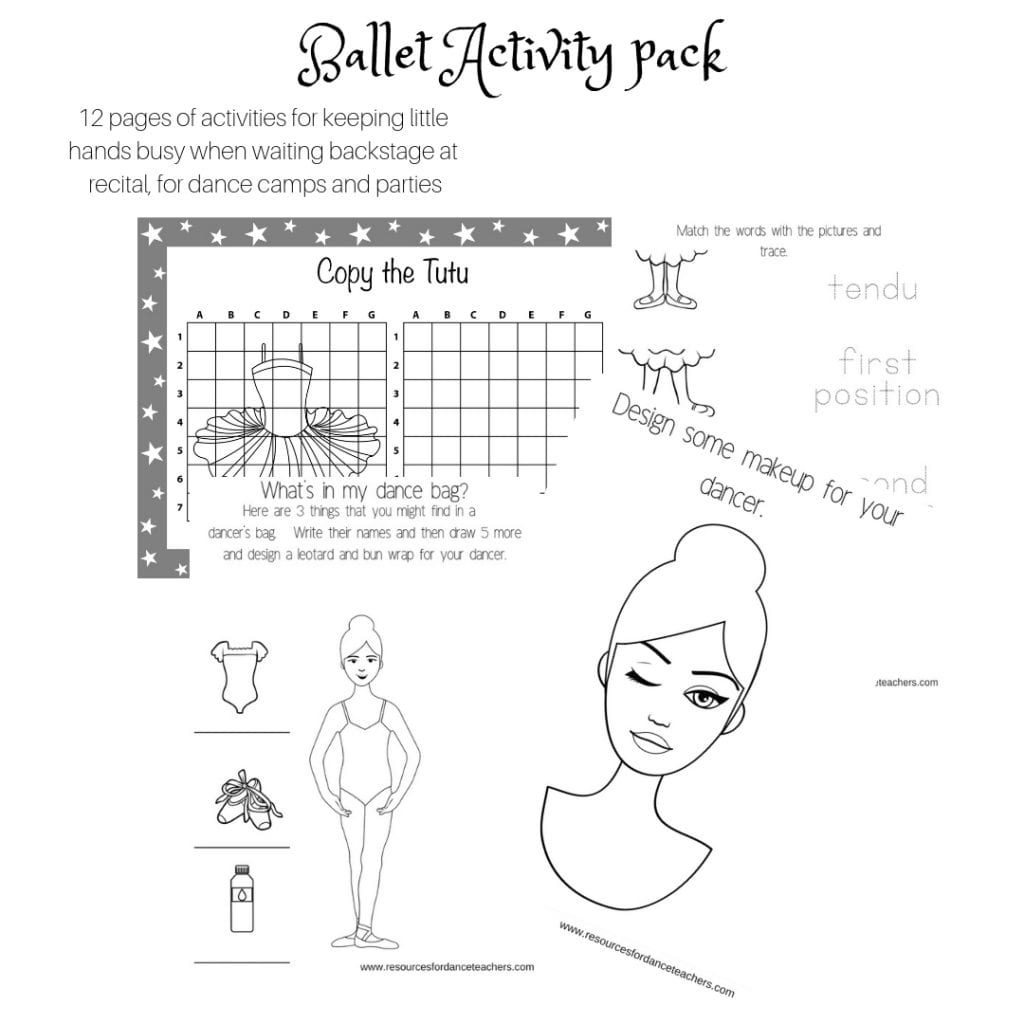 The ballet activity pack for recitals is also perfect for ballet camps and parties – the activities work just as well as coloring activities as they do as ballet craft activities. Pages like the design your own leotard page can be completed with pencils or with craft embellishments. In this way the ballet activity pack can be used for summer camps or ballet parties.  The ballet activity pack for recitals, camps and parties includes
Ballet scramble – unscramble the colors and color the bow, tiara, ballet shoes, tutu and leotard.
Place the dancers on stage – a color, cut, paste activity – color the stage and the ballerinas, then cut them out and put them on the stage.
A beautiful ballerina colouring sheet
Design your own leotard – so much fun! (Tip – this works really well with sticky jewels and fabric or paper scraps and other embellishments for a full craft activity)
How many – a cute counting and colouring game featuring delightful graphics
Time to get creative and draw a beautiful tutu, headpiece and makeup for a beautiful ballerina. Works as a colouring activity and also as a ballet craft activity with stick on jewels, tulle and other embellishments.
Kids love this one! Design some stage makeup! This is so popular and can be used again and again.
Choose some colors and decorations to make a beautiful tutu and tiara. Great for coloring and also with other embellishments for a ballet craft activity.
What's in my dance bag?  Color the ballet dancer and then color and draw what's in her dance bag
Match the positions and basic ballet steps with the pictures and then trace the names.
Copy to draw the tutu
Ballet word search
For more ballet activities including ballet theory resource packs check out our store.
Find more camp activity packs here.