Unicorn Preschool Ballet class plan
Is there a Preschool Ballet student not obsessed with Unicorns? Unicorns are the Zeitgeist of our time but Unicorn themed songs for Preschoolers are a little harder to come by.  Never fear your Unicorn Preschool Ballet class plan is here! And if you teach 5-6-year-olds there is a version for them too.  This Unicorn Preschool Ballet class plan is based on the Ballet Blueprint series, the best-selling downloadable ballet curriculum which is currently used worldwide as a best practice pre-ballet curriculum.  It has been designed, tested, and tweaked so that you can download and hit the dance floor running.  Created with a firm foundation in fostering correct ballet technique around childhood development principles you can be confident that your Preschool program is pedagogically sound and that students will graduate primed to move into formal ballet training.  Studios rise and fall on their Preschool program and tapping into this revenue stream puts your studio on strong foundations.  However, finding a Preschool program that ticks all the boxes, that can be used by multiple instructors but which doesn't cost a bomb or require expensive membership fees can be challenging.  The Ballet Blueprint series is tried and tested and a simple no-fuss option to build a quality Preschool Dance program that you can be proud of and rely on to actually prepare your youngest dancers for their formal training. If you want a class of superstar minis you need to get started early.
Vivian Brent  (Encore Performing Arts) – I was badly burned by a big name Preschool franchise.  I wish I'd just purchased this to start with.  It has everything I need.  I can provide each of my instructors with a copy and I can be confident  that my Preschool program will be well organised, uniform and something that the children really enjoy and benefit from.
Like all the Resources for Dance Teachers mini-class plans, the Unicorn Preschool Ballet class plan comes with a playlist, fully choreographed exercises that focus on fine and gross motor skill development, directions, levels, speed, and bucketloads of imaginative play.  The class plan also comes with a coloring page.  As a special bonus, there is also a Beginners Ballet version for your younger students aged 5-7.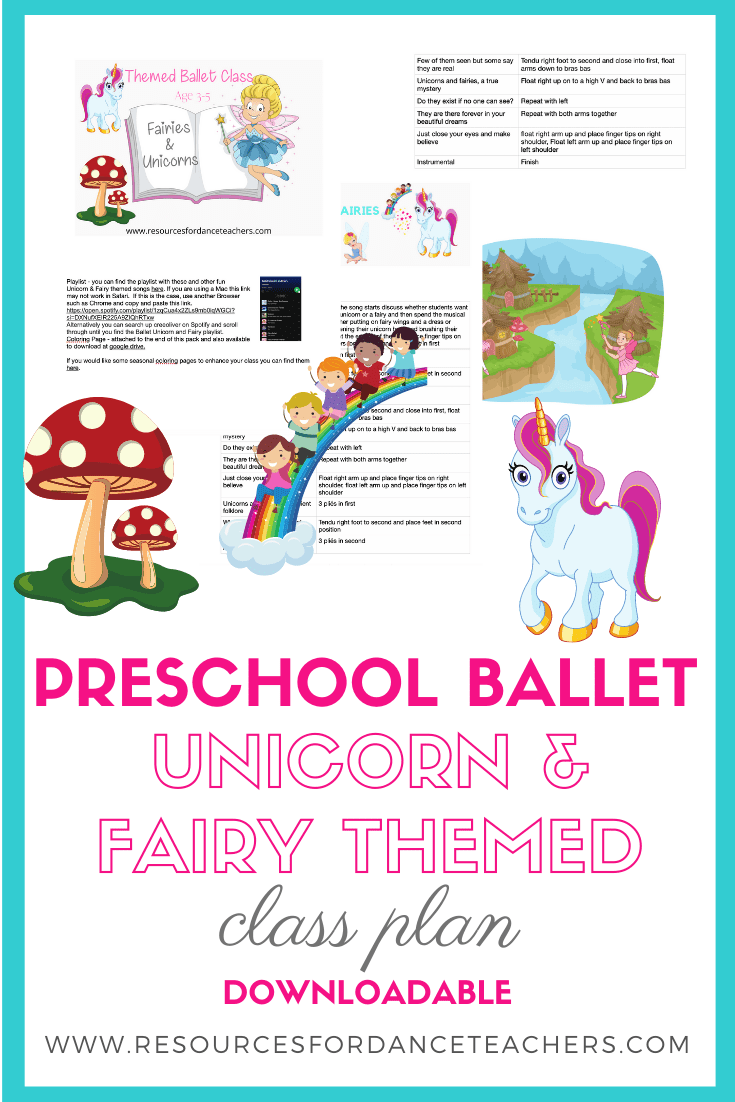 You can learn more about the Ballet Blueprint series here and find more mini-class plans here and a whole range of fabulous coloring pages and ballet activities here.
To download your free Unicorn Preschool Ballet class plan with a bonus 5-7-year-old version just enter your email below.